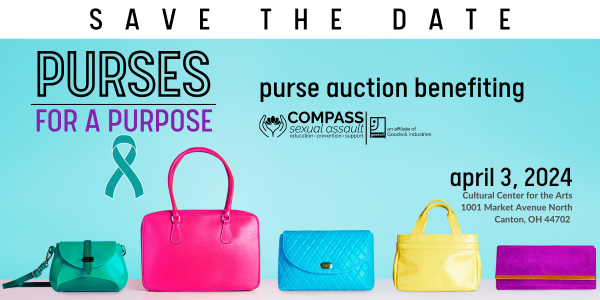 Tote, satchel, clutch or hobo – whatever style handbag you favor, you can find it at Purses with a Purpose. A signature COMPASS (Sexual Assault Education, Prevention & Support) (COMPASS) event, Purses with a Purpose kicks off Sexual Assault Awareness Month with an online purse auction and a culminating in-person celebration on April 3 at the Cultural Center for the Arts.
The auction will have a wide selection of purses, bags, and totes to bid on– and each bag is filled with mystery items with a minimum value of $50!
Proceeds raised from Purses for a Purpose will support crisis intervention and advocacy support, along with the purchase of comfort kits, journals, and other healing items for survivors of sexual assault.
To make a purse or item donation or get further information email donations@compassrapecrisis.org.